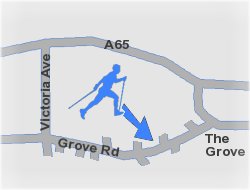 Contact Us
Eldermere House,
10 Grove Road
Ilkley
West Yorkshire
LS29 9PE
Email: info@nordicwalkingyorkshire.co.uk
Tel: 07966 572611
(We are quite often busy with clients: please feel free to text us or email us if you cannot get through on the phone.)
Photo Gallery
Facebook
Watch out for our Facebook fan page, coming soon ...
Twitter
At ilkleyfitness on Twitter we tweet about Nordic Walking and Personal Training classes.
Testimonials
"Many thanks for an excellent introduction to Nordic Walking..."
As teachers, we were very impressed by your method and general approach - you also have a lovely personality and character. You are encouraging and positive - you note the small but significant progress that people make and although rigorous in approach and teaching the method, you build confidence and make us feel that YES we can do this if we persevere and practise!"
- Maggie and Catherine
"Your energy, enthusiasm, and talent have been the driving force behind my lifestyle change from the very start. You have helped me achieve a level of fitness I would not have thought possible for myself. With many thanks"
- John K., Ilkley
"Nordic Walking - What a delightful experience! Learning a new skill in such a friendly environment. Thanks Sabine, for making it such a memorable day."
- Mary W., Wakefield
Holidays!
We are able to use our experience and contacts to arrange great holidays for those interested in Nordic Walking, Trekking, and similar activities! Click here to find out more.
WWW Links